CSR: TEB Video & Security wins the EcoVadis Bronze Medal!
---
Concerned about environmental and social issues, TEB Video & Security is actively engaged in a CSR (Corporate Social Responsibility) approach.
After assessing our level of CSR commitment, we were awarded the EcoVadis 2022 Bronze Medal.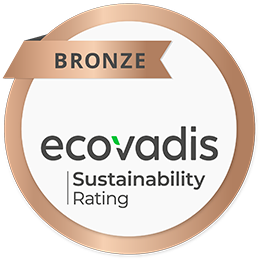 A CSR assessment solution
EcoVadis is an organization in charge of evaluating the CSR performance of companies. To do this, it focuses on different points:
Environment
Social and Human Rights
Ethics
Responsible Purchasing
This evaluation is done via an online platform and the final rating depends on the results given, based on the above criteria.
CSR at TEB V&S
Following the EcoVadis evaluation, we obtained an overall score of 53/100, placing us in the 63rd percentile of companies in the same sector evaluated by EcoVadis. The scores obtained are as follows:
Environment: 60 (average of 48 for companies in this sector evaluated by EcoVadis)
Social and Human Rights: 60 (average of 48 for companies in this sector evaluated by EcoVadis)
Ethics: 40 (average of 44 for companies in this sector evaluated by EcoVadis)
Responsible Purchasing: 40 (average of 40 for companies in this sector evaluated by EcoVadis)
---